Prior to Monday's snap election call, a Facebook page called the BC Rental Project had spent thousands of dollars on ads every month, critiquing the City of Vancouver and the provincial NDP government.
Since June 10, 2019, the page has spent nearly $38,000. For comparison, this is more than the BC Federation of Labour, PressProgress and the BCGEU spent in the same period.
The Facebook Ad Library includes the amount spend on "ads about social issues, elections and politics" since June 10, 2019.
The BC Rental Project's ads have been critical of delays in approving housing projects at Vancouver City Council, claiming "rental housing providers are being taxed out of the city," and of the BCNDP's promise to build 114,000 affordable homes in ten years. The page claims fewer than 3000 homes have been built so far.
Between $3500 and $4000 was spent to sponsor one video that claims governments are saddling rental projects with "years of red tape, endless consultation and millions of dollars in added fees" and instead asks governments to "work with rental housing providers" to build additional housing.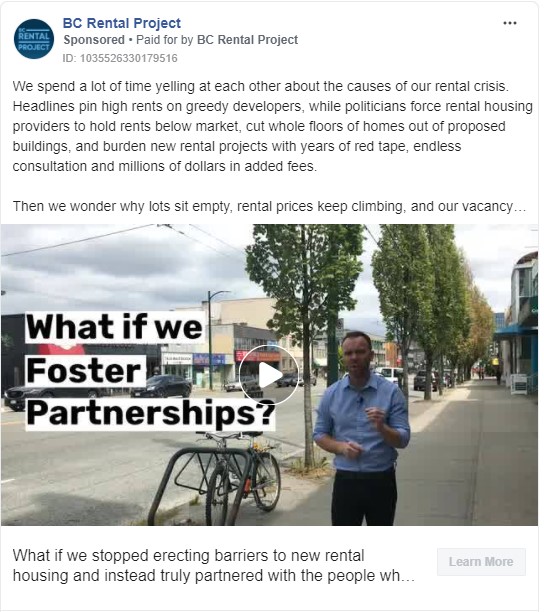 Regardless of whether you agree or disagree with the BC Rental Project's claims and policy goals, the fact the people behind the page have been spending tens of thousands of dollars trying to shape public opinion on these questions is worth some scrutiny.
The BC Rental Project is a campaign consisting publicly of a website and a Facebook page that was launched in December 2018, shortly after Vancouver's most recent municipal election. Their Facebook page describes itself as "an initiative aimed at solving the root causes of our housing crisis by advocating for more rental options in BC."
The page has just over 8000 likes but its videos have been seen hundreds of thousands of times. One video has been viewed almost 1 million times.
Their current main effort is a petition calling for the BC Government to "immediately implement policies that incentivize the creation of new rental housing and allow existing rental operators to efficiently manage and repair our existing and aging rental housing stock." The policies called for in the petition are largely tools to incentivize rental housing construction by the private sector. Specifically, tax rebates for the construction of new rentals and exempting all development lands slated for housing from the increased School Tax and increased 5% property transfer tax.
The Project's website and Facebook Page do not state who is behind the initiative or where it's funding comes from. No public address is given and no individuals are named. There is the option to donate to the project via PayPal though. There are seven admins to the page, though Facebook doesn't publish their names.
The group released a "Municipal Rental Scorecard" in November 2019 that graded various Metro Vancouver municipalities. Vancouver was given a D for its policies, while the City of North Vancouver earned an A. New Westminster received a D- for "decisions which have impacted property rights of rental owners."
When the scorecard was released, Adrian Crook, a former independent council candidate and co-founder of Abundant Housing Vancouver (Crook is no longer a involved with AHV), did a round of media as the initiative's spokesperson, including an op-ed in The Georgia Straight and an appearance on The Lynda Steele Show on CKNW.
Adrian Crook speaks in all four videos that have been released on the page.
I reached out to Crook for comment on the BC Rental Project, specifically asking who is behind the initiative and where its funding is coming from. He would only say that the people involved are "rental housing providers, renters, advocates" and declined to comment further.
Following the release of that scorecard, the BC Rental Project was part of a coalition called "Partners for Rental Housing" that released a technical report in December 2019 entitled "Making Rental a Reality: The residential rental tenure zoning tool and its implications for land use planning." The Partners for Rental Housing also included the BC Chamber of Commerce, as well as the Chambers of Greater Langley, Langley and Parksville, the Surrey Board of Trade, LandlordBC and UDI – the urban development institute, who self describe as the "premier voice of the BC real estate development industry."
In January 2019, Carman Benoit walked through in a Facebook post how she discovered that Mike Wilson, a political consultant, was one of the page's admins. Wilson worked for Christy Clark's 2013 provincial election campaign, as well as briefly as Hector Bremner's campaign manager and later for Crook's campaign (as well as fellow independent candidate Wade Grant).
Under the provincial Lobbyist Transparency Act, anyone who is paid to communicate with government officials in an attempt to influence decisions is required to declare details of their lobbying efforts in an online registry. Despite its petition to the Government of BC, the BC Rental Project is not registered in the provincial Lobbyist Registry.
I asked the Office of the Registrar of Lobbyists if a page like the BC Rental Project should be registered and was told that as long as the campaign is being run by "genuine volunteers", that is people who are not receiving any form of payment, then they would not be required to register. This holds true even if the money for the ads comes from a third party.
In other words, an organization or company can seemingly avoid the requirement to register in the lobbyist registry so long as they can find a volunteer willing to run the ads on their behalf.
The BC Rental Project's most recent ad ended on September 23, 2020, shortly after Premier John Horgan called a snap election. During an election, individuals and organizations that campaign or advertise during the campaign must register with Elections BC and can only accept funds from BC residents to use on the campaign. The BC Rental Project is not currently listed as a registered Third Party Advertising Sponsor.
Prior to the official start of the 2018 municipal elections, developer Peter Wall spent $85,000 on billboards in support of Hector Bremner's mayoral campaign. Those ads, and the money behind them, were a source of controversy that plagued Bremner's campaign.
As ever, it seems, money will find a way.
Note: Adrian Crook supports Cambie Report on Patreon.
Story updated to note that Adrian Crook is no longer involved with Abundant Housing Vancouver